Art is an inherent language that connects across socio-economic, cultural, and
cognitive bounds. Art at Large strives to inspire, harvest, curate, and showcase
that visual language to create art that speaks to many.
The Light House Healing Garden
With ArtWalk
Sponsored by TKF Foundation
Artwork by members of The Light House and The Providence Center
Annapolis, MD | Completed Fall 2010
Reflections Healing Garden
Maryland Correctional Institute
Artwork by inmates from Jessup Correctional Institute
Workshops conducted by Sally Wern Comport and Warren Linn

Jessup, MD | Completed Spring 2011
Community Rising
With Artwalk
In Collaboration with George "Lassie" Belt
and the children of The Stanton Center
Annapolis, MD | Completed 2007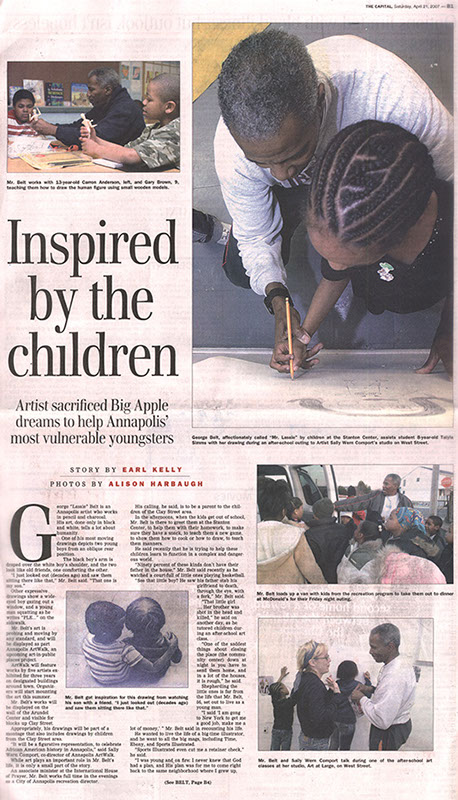 Providence Center is an Anne Arundel County 501-(c)3 non-profit organization that serves adults with developmental disabilities through job placement, art programming, transportation, day care, and other services.
Art at Large proudly serves Providence Center's mission through volunteering design, branding, signage, marketing, consulting, and artistic services.
Other projects include:
 
Flowers at the Market House
Historic City Dock Market House
CROSSING BORDERS: SOCCER
PIP MOYER REC CENTER
With ArtWalk
In Collaboration with VisionWorkshops
Students Taking Flight
Bates Arts Magnet Middle School
With ArtWalk
TKF Foundation Open Spaces,
Sacred Places Healing Gardens